Wall to Wall
Also known as broadloom, wall to wall carpeting can be more cost-effective than hardwood and tile. Broadloom is also easily incorporated with any décor.
What Is Broadloom?
Broadloom gets its name from the device used to weave the fabric. Any carpet woven on a wide mechanical loom with 12 to 15-foot widths is considered broadloom. Based on the size of your interior space, the carpet will be cut and firmly stretched from wall to wall. A professional rug installer will manually "seam" sections together on-site to cover the floor and ensure the nap and pattern of the rug flow perfectly.
Is Carpet Right for You?
At Kaoud Rugs, we specialize in both residential and commercial carpeting projects. Our showroom experts have a strong knowledge of broadloom and will offer the best options for your specific application. Based on the level of foot traffic you anticipate in the area, we can determine the right carpet material for your needs. For instance, wool carpeting is ideal for homes with heavy foot traffic and kids because it's very durable and resilient. Today's new nylon carpets are also excellent for busy family lifestyles and pets due to the easy cleaning nature of modern stain protection materials.
Broadloom is also widely used in corporate spaces. Businesses of any size, from law and dental offices to schools, are all within our scope! Wall to wall carpeting can easily cover a large floor, while adding a pop of color or sophisticated design. To open up a room and make it more welcoming and comfortable, consider broadloom for your next commercial project.
Benefits of Wall to Wall Carpeting
Expert carpet installation can ensure there are no buckles or wrinkles. We install broadloom over the highest quality padding to prevent fraying, damage to the flooring and other future hassles. The finest carpeting pads can also help keep the carpet warranty intact and we use the best pad for the type of carpet, instead of a "one-pad-fits-all solution". Other benefits of broadloom include:
Comfort underfoot with soft, beautiful carpeting
Sound absorption through the carpet fibers
Improved insulation for energy savings
Added warmth in the colder months
The top-quality padding installed below wall to wall carpeting also provides underfoot comfort, can absorb foot traffic and prevent liquid spills from damaging the floorboards below. Carpet pads also help retain heat in the winter and cool air in the summer.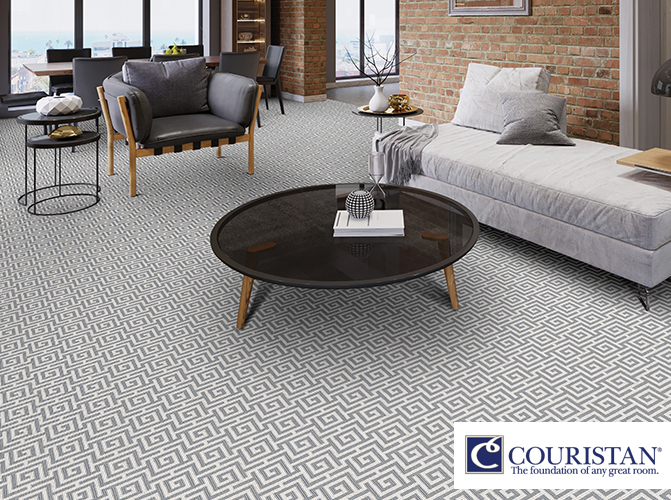 Featured Brands
Broadloom carpeting is made from a variety of materials, including synthetic fibers and natural wool. From traditional solid colors to more contemporary patterns and bold transitional prints, broadloom can fit any design aesthetic. We carry the finest quality wall to wall carpeting from top brands like Nourison, Karastan, Dixie Home, Masland, Godfrey Hirst and Couristan. Our unparalleled selection of hand-loomed carpets matches any style and budget!
There is no better feeling than stepping onto a soft carpet. Trust our showroom staff and expert installers to help you select and fit broadloom carpets to your interior spaces.
To learn more about wall to wall carpeting,
visit a showroom today!
---